Today tens of thousands of Indian Farmers will be protesting against President Modi's Farm Bill introduced in 2020. "The three acts will allow large corporations to dictate price and supply which can in essence make farmers lose their livelihoods."
Today is auspicious as it is Republic Day in India, 26th January 1950, where India formally adopted it's Constitution and became an independent republic, 3 years after Indepence day on August 14th 1947. The Bill would negatively impact small farmers throughout India and in particular the Punjabi and Haryana farmers and Sikhs and other supporters around the world, including Britain have been showing solidarity with them.
They have been peacefully protesting for over 40 days and have been met with blockades, violence, tear gas, water cannons and more. The Indian government is stopping people from a democratic right which is to protest peacefully.

Solidarity with Indian Farmers UniteLive, Tuesday, January 12th, 2021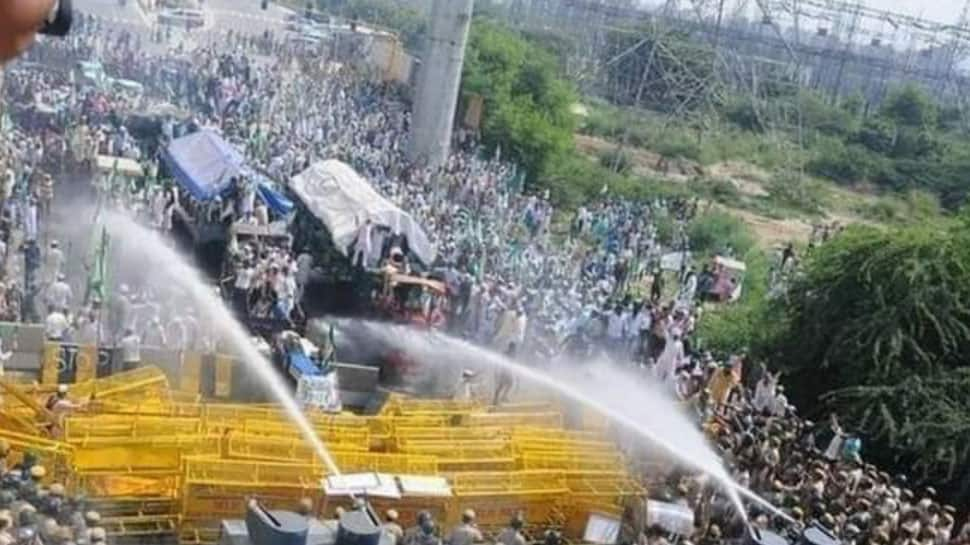 The approach of the police and state towards the protestors has brought back memories with Operation Blue Star resulting:
In 1984, anti-Sikh riots erupted across New Delhi leaving nearly 3,000 people dead, after then – Prime Minister Indira Gandhi was assassinated by her Sikh bodyguards.

British Punjabis rally in solidarity with Indian farmers Al Jazeera 14th December 2020
Why the Protest
The journalist Palagummi Sainath sums it up well when he talks about retaining the Minimum Support Price (MSP) and cancelling farmer's debt (tens of 1000's of farmers annually commit suicide because of debt):
The Modi Government introduced new argicultural laws that open up farmers to the 'free market' and to big agri-business at the expense of the small farmer. This particularly affects the communities in the Punjab, sometimes described as the 'bread basket of India' and Haryana.
Farmers begin sowing, armed with the knowledge of the previous season's demand. Even the most enlightened farmer, who keeps track of global trends, will still have to commit to a certain acreage at the point of sowing. If supply or demand trends change during the weeks needed for the crop to grow, there is nothing that the farmer can do about it. This is why supply and demand can never match in agriculture. They always confront each other with a seasonal lag.

In such a situation, assured prices alone can ensure that farmers have a steady income. Otherwise, a sudden glut can cause farmers to go bankrupt. And we know this happens every year in places where farmers are unable to access the APMC mandis or get MSP. They are unable to pay the loans they took at the beginning of the season. Microfinance lenders and banks come banging at their doors. At times, the farmer is humiliated so much that he ends up killing himself.

Only the state can intervene to protect farmers from the vagaries of market forces. That can only be done by government procurement at assured minimum prices. Private procurers and big agri-businesses can never do that. Except in the world of naive textbook economics.
Sikhs Worldwide and Unions Show Solidarity
Sikhs from the UK, Canada, Australia and the US have been demonstrating outside Indian embassies over the last 2 months in support of the Indian farmers. In the Reuters' article Sikh diaspora drums up global support for farmers' protest in India by Mayank Bhardwaj and Manoj Kumar on 17th December 2020:
On Saturday, people of Indian origin plan to carry out similar protests near the state parliament of Victoria in Melbourne, said Siftnoor Singh, a data scientist.

"The new laws will bring economic devastation to our motherland, and we can't simply close our eyes and pretend that everything is alright back home," he told Reuters by phone.

The farmers' fear is that by allowing companies such as Walmart and India's Reliance Industries Ltd's retail arm to buy directly from farmers, the government intends to weaken the traditional markets where their rice and wheat are guaranteed a minimum price.
British Pujabis Rally with Indian Farmers Al Jazerra 14th December 2020
Many here say the laws threaten their ancestral lands, which they fear could be swallowed by corporate interests.

"Many of them still have land out there, or close family and friends who are farmers," Tanmanjeet Singh Dhesi, a member of Parliament with the main opposition Labour Party, told Al Jazeera. "My parents and my grandparents were farmers in Punjab. My uncles and cousins, they are out there [in India] protesting."

A survey by the Sikh Council UK in October found 92% of Sikhs in the UK have ties to agricultural land in India, and 84% were personally concerned about the effect of the new regulations.

Earlier this month, thousands of British Punjabis gathered outside the High Commission of India in central London, in support of the striking farmers, or "kisaan" as they are known in Punjabi.
The Unite Union shows solidarity and posted on 12th January 2021:
The Punjab farmers dispute is the biggest dispute and the largest protest in the world and other states in India have joined in. There are a lot of people in the Punjabi community posting this on their social media but it has been shadow banned by Facebook.

….. The three acts will allow large corporations to dictate price and supply which can in essence make farmers lose their livelihoods. This is the biggest stand against a government and corporations in the world.

…. There have been many protests by the Punjabi community around the world, in London, Vancouver, Birmingham, San Francisco, New York, Washington, Panama, New Zealand, Australia, Germany, Austria, Holland, France, Toronto and many more.

….. This week MP Tanmanjeet Dhesi secured over 100 signatures from cross-party MPs and Lords in a letter which addresses the issues and the fact that prime minister Boris Johnson has overlooked these issues
Further reading
Tractor 'parade' on R-Day if demands not met, say unions The Tribune – Voice of the People 3rd January 2021
Why are Farmers Protesting? National Herald of India 26th September 2020
The Indian farmers' agitation and the socialist strategy of the working class World Socialist Website 20th December 2020